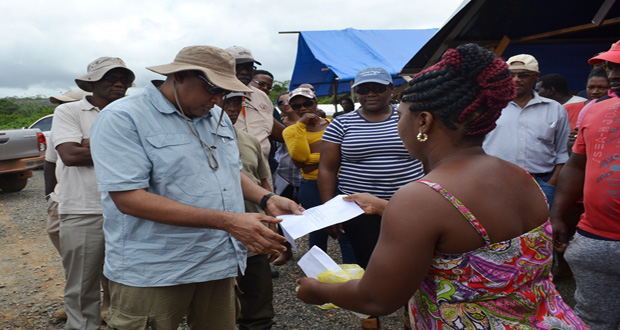 guyana chronicle January 14, 2016
MEN carrying guns and pumping bullets into a sluice box  were among several matters raised with a team of officials from the Ministry of Natural Resources met with a group of small miners who operate "illegally" at Omai, Region Eight. The miners, numbering more than three dozen, are calling on the authorities to address their concerns, including regularisation of their activities at the site known as the "Omai Mill."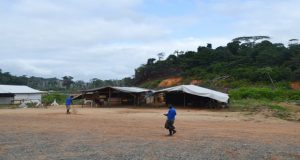 The miners have been operating mining equipment and shops illegally at the site, which is now owned by Canadian resource development company, Mahdia Gold Corporation.
Efforts to obtain a comment from Mahdia Gold Offices in the city were futile and the phone numbers listed for the company were disconnected when dialled yesterday. According to a Guyana Geology and Mines Commission (GGMC) official, there are an estimated five small operations at the site with 15 structures set up as homes and shops.
SHOOTING UP SLUICE BOX
Edwin Isaacs told the team that two weeks ago, his employees were working in the pits when security personnel reportedly attached to Mahdia Gold allegedly broke down the structure holding his sluice box. "They shoot it up and bore up the hose," Isaacs said. He said further that he was told that he should report the matter to the company and while he met one "Mr Bacchus" on his first visit to lodge a complaint, he was given a "runaround" while trying to meet the man a second time. He said that the security personnel had committed the act on more than one occasion.
Isaacs said that persons would visit the site and "claim" that they were working with Mahdia Gold, producing accompanying documents with signatures. Other miners also echoed similar comments, noting that they are sometimes threatened by the gun-toting security officers allegedly attached to the company.
Minister within the Ministry of Natural Resources, Simona Broomes, told the miners that the incident they had described is of a serious nature. "Shooting up the box is something that we would stand against," she said, as she expressed displeasure over the issue. Minister of Natural Resources, Raphael Trotman, said that he will try to find clarity regarding the miner's claim.
UNFAIR
In addition, the miners told the team that they are required to pay 20 per cent of their production to the mining company, a sum they opposed, noting that the mining regulations have set the figure at no more than 10 per cent. However, Minister Trotman told the group that if it is a sum agreed to, then they would have to work along with arrangements made between each party.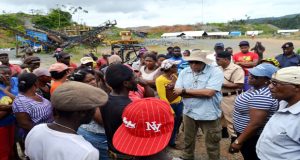 Earlier, Trotman had told the miners that the visit was an information-gathering one, since the miners were expected to be issued with a cease-work order by the Guyana Geology and Mines Commission (GGMC). That order has since been put on hold. He said that in such matters, justice "goes both sides and so the government recognises firstly you are citizens of Guyana and have a right to work."  Trotman observed that it is the government's duty and obligation to find work for the miners, while also recognising that the other party has a right to the mining area too. "So you got to find a balance in between that," he added.
According to reports, the miners have refused to pay the 20 per cent sum being requested by persons who had approached them. They said that the persons did not provide relevant documents to show on whose behalf the monies were to be collected.
Isaacs told this newspaper that the miners are hoping that the government would assist them.
"We glad if they [government] can help me to access the area."  He said that the land has already been "used."  He explained that the area is called "Omai Mill," since it is there where the company had dumped waste material from its mining pit.  He added that the area is feasible for work, since as much as an ounce of gold can be retrieved over a three-day period. "Is something we can work with; we have families to feed," he added. The ministers invited the miners to a small miners' meeting which will be held on Friday at the Arthur Chung Convention Centre at Liliendaal. Land and other issues are expected to be discussed at that meeting.
By Alva Solomon