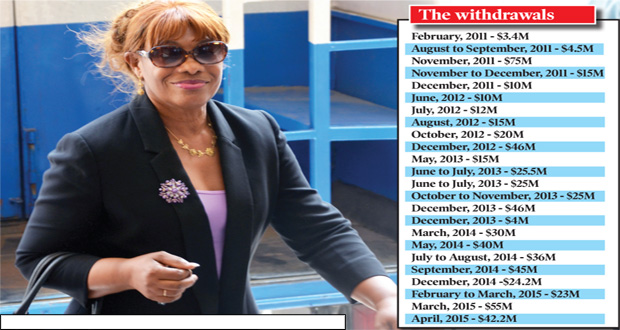 guyana chronicle February 1, 2016
 By Leroy Smith
FORMER Public Service Minister Dr. Jennifer Westford and her Personnel Manager Margaret Cummings were Monday placed on $4.8M bail each on multiple charges of fraud on allegations that they stole $638 million.They are accused of withdrawing the money – property of the state – over a four-year period.
The two appeared before Magistrate Judy Latchman in the Georgetown Magistrate's Court and were represented by seven high profile lawyers, including Senior Counsel Ashton Chase, Neil Boston, Dexter Todd and Bibi Shadick.
The court heard that between 2011 and April 2015 – just prior to general elections – the two stole millions of dollars from the state in several tranches under the guise that they were taking the money to carry out training activities and execute reviews of the services within the public service.
Following are the periods within which the amount of monies the two are reportedly accused of stealing.
February, 2011 – $3.4M; August to September, 2011 – $4.5M; November, 2011 – $75M; November to December, 2011 – $15M; December, 2011 – $10M; June, 2012 – $10M; July, 2012 – $12M; August, 2012 – $15M; October, 2012 – $20M; December, 2012 – $46M; May, 2013 -$15M, June to July, 2013 – $25.5M, June to July, 2013: $25M, October to November, 2013 – $25M, December, 2013 – $46M, December, 2013 – $4M; March, 2014 – $30M, May, 2014 – $40M; July to August, 2014 – $36M; September, 2014 – $45M; December, 2014 -$24.2M; February to March, 2015 – $23M; March, 2015 – $55M; and April, 2015 – $42.2M.
The two were called upon to lodge their passports as a condition for bail. While they were able to arrange the bail money, they could not lodge their passports immediately but were ordered to do so today.
Westford and Cummings were not required to plea to the indictable charges laid against them. Having posted bail, they two were ordered back in court on February 22.
The court heard that Westford, whose details were given as a doctor and part-time farmer, was a minister of government for about 15 years. Prior to that, she served as a Regional Health Officer.
Senior Counsel Chase, in pleading for bail for Westford, said she has been cooperating with the Police fully on another matter which is also engaging the attention of the Georgetown Magistrates Court. He said that she will offer similar cooperation in this case.
Westford has been charged with four counts of larceny on allegations that between July 17, 2014 and June 23, 2015, she attempted to transfer state vehicles to four persons, namely her husband Gary Beaton, Osbert McPherson, Wayne Walker and Delroy Lewis; Cumming is also charged in the same case.
Yesterday, Attorney Boston described Westford, 54, as 100% innocent, saying she served as a very outstanding public servant and a Member of Parliament for several years. Westford remains a Parliamentarian for the opposition PPP.
He pointed out that she has been appearing at all hearings in the other court matter she is engaged in and will do the same in this case.
Boston, in supporting the case for bail for Cummings, called on the court to not to be swayed by public opinion; in his opinion the public has already declared Cummings guilty of the charges.
He described Cummings as a mother of three children who lives at 704 Section 'A' Diamond, East Bank Demerara. According to the lawyer, Cummings dedicated 17 year of her life as a public servant and has made sterling contributions to the Office of the President, and by extension the state.
According to Boston, Cummings went beyond the call of duty by giving immense service to Guyana, while functioning within the public service; during that time he said she acquired a Bachelors and Masters degree in Public Management.
Cummings, prior to last year when she was charged with illegally transferring several state vehicles, was never charged before, the lawyer added. He described the charges as "Mickey Mouse" charges against his client.
Boston said that his client has instructed him to inform the court that she plans to appear in court for all her hearings and would not interfere with any of the witnesses in the matter.
The court was told that apart from serving as Personnel Manager at the Public Service Ministry, she also functioned as the Principle Personnel Officer, Confidential Secretary to the Minister, Supervisor of the Accounts Department and Administrative Officer.
In his argument for the denial of bail, police prosecutor Bharat Mangru said that he felt tat bail should be denied because of her status, she would interfere with the witnesses.
That argument erupted laughter among the counsels on the bench, forcing the Magistrate to call for silence in the courtroom. The prosecutor went on to suggest that the accused may not return for their trial and might leave the country. At this point, the Magistrate asked, rhetriocally, whether the two accused weren't the same ones who were dutifully appearing in another court on other charges.
The prosecutor however responded that the latest charges are far more serious than the ones they were charged with previously and as such a condition for their bail should be that their passports be lodged.
Senior Counsel Chase questioned the logics behind such a request as he made reference to someone else who is accused of stealing $27 million from another state entity and was allowed to leave the country (in reference to the former Deputy Chief Executive Officer of the Guyana Power and Light Aeshwar Deonarine, who is now wanted by Interpol).